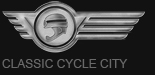 Classic Cycle City
Am Dachsberg 10
78479 Reichenau
Germany
phone: +49 (0)7531 3691911
fax: +49 (0)7531-3694637
email: info(at)ClassicCycleCity.de


Legal Notice and Disclaimer
This web site with its home page in the domain "ClassicCycleCity.com" (the "website") is a complimentary information service offered Classic Cycle City at no charge to users of the World Wide Web, with the express condition that these users agree to be bound by the terms and conditions set forth in this User Agreement. Classic Cycle City reserves the right to change these terms and conditions any time. You must consult the most recent version of this User Agreement (not an older cached version) each time you view the website. Access to and use of this website is provided subject to these terms and conditions. Please read these terms and conditions carefully as use of this sites constitutes acceptance of these terms and conditions.

Information Disclaimer
The Information provided in or made available through the Classic Cycle City website (including, but not limited to, message boards, text files, chat rooms or auditoriums, is not intended to replace the services of a trained technician regarding analysis of any particular condition or to be a substitute for their advice. The user is advised to consult with a trained technician prior to purchasing any part of accessory.

Communications from you to the Classic Cycele City web site
Except for orders for products provided through the Classic Cycele City web site and as specified in our Privacy Statement, all communications from You to the Classic Cycele City web site will be considered non-proprietary and non-confidential, and Classic Cycele City will have no obligations of any kind to You respecting such communications and will be free to use them on an unrestricted basis. Specifically, but without limitation, You authorize Classic Cycele City reproduce, use, disclose and distribute such communications to others, and (ii) use any ideas, know-how, designs, concepts, techniques or the like contained in such communications for any purpose whatsoever. You are solely responsible for these communications and their legality under all applicable laws and regulations. You agree that you will comply with the terms of our Privacy Statement when using the Classic Cycele City web site. You are responsible for the security of any account names, identification numbers or passwords associated with your access to and use of the Classic Cycele City web site Classic Cycele City is not liable for any unauthorized use of any accounts you establish through the Classic Cycele City web site by You, your employees, agents or anyone else.

Links with other sites
Classic Cycele City is not responsible for the content of any other web site linked to or from the Classic Cycele City web site. If you link to another site, you leave the Classic Cycele City web site. If you decide to link to another site, you do so entirely at your own risk. Classic Cycele City may provide links from the Classic Cycele City web site to other sites, but this is done solely as a convenience to you and in no way should be interpreted as a referral or endorsement of any content, sponsor or owner of any other site. All warranties, conditions or other terms express or implied as to any such linked site, including without lmitation as to accuracy, ownership, validity or legality of any content of a linked site, are hereby excluded.

Use of Material on Classic Cycle City website
The works of authorship contained in this website, including but not limited to all design, text and images, are owned or licensed by Classic Cycle City, and may not be copied, reproduced, transmitted, displayed, performed, distributed, rented, sublicensed, altered, stored by subsequent use or otherwise used in whole or in part in any manner without the Classic Cycle City prior written consent, except that the user may make such temporarily copies in a single computers RAM and hard drive cache as are necessary to browse the website, and the user may make one permanent printout of each page of the website (unmodified in form, with a copy of this User Agreement attached) to be used by the user for personal and non-commercial uses which do not harm the reputation and interests of Classic Cycle City or create a likelihood of confusion as to its trademarks. Classic Cycle City does not waive any of its proprietary rights in the website or information including, but not limited to, copyrights, trademarks and other intellectual property rights.

Classic Cycle City Control of the website
This website (excluding linked sites) is controlled by Classic Cycle City which is headquartered in the State of California, United States of America. It can be accessed from all 50 states, as well as from other countries around the world. As each of these places has laws that may differ from those of California, by accessing this website both you and Classic Cycle City agree that the statutes and laws of the State of California, without regard to conflicts of laws principles thereof, will apply to all matters arising from or relating to use of this website.
You and Classic Cycle City also agree and hereby submit to the exclusive personal jurisdiction and venue of the Superior Court of San Diego County, California, and the United States District Court for the Southern District of California with respect to such matters.
Classic Cycle City makes no representation that materials on the website are appropriate or available for use in other locations, and accessing them from territories where their contents are illegal is prohibited. Those who choose to access this website from other locations do so at their own initiative and are responsible for compliance with local laws.

Copyright and Trademark Notices
Copyright © Classic Cycle City 2017, all rights reserved.



Enjoy your visit at ClassicCycleCity.com!